How to use wallpaper to decorate bedside of the bed room?
2016-11-18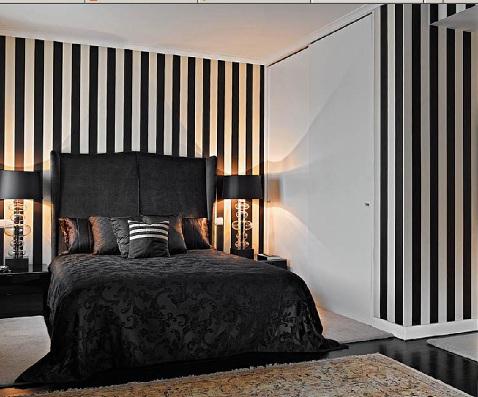 In the home space, the bedroom is always full of warm place in the home For home bedroom space accessories design, the bedside decoration influence the whole room. At the same time to a certain extent, home decoration in the bedside wallpaper can bring a large extent, the bedroom unique decorative effect. In the decorative design, the following together to appreciate the color of the bedside, The most important furniture in the bedroom, the most attractive part of the bed is the bedside, so the bedside is also a bedroom decoration powerhouse.To create a good bedroom, starting from the bedside decoration. Light of the wallpaper highlights the unique shape of the bed frame, and a slightly dense pattern is to make up the bed frame pattern blank, simple and appropriate.
Stripes are never out of fashion. Black&white stripes combination of simple and no shortage of changes in the wallpaper, how to look also do not get tired, this bedroom has brought a full fashion taste, with simple vases, mirrors, lighting, evil The same striped wallpaper, which changes slightly less stripes, slightly monotonous, but is the same with the bed pattern, a sense of coordination. The wall cartoon circular painting in this monotony brings a fresh, very cute.
Pink flower wallpaper with heavy and simple bed frame, giving a feeling of expensive and not exposed, For the home bedroom, bringing a romantic stylish atmosphere of the home features.